Cynthia Yasmin Valdez Pérez
The beautiful mexican gymnast
This artist in rhythmic gymnastics is one of the strong cards in the State of Mexico to win medals in these Pan American Games that will take place in Guadalajara.
Our beautiful city is another great protagonist with whom we must all cooperate with the affable character with which they draw us, in an effort to enhance this Pearl Tapatia. Practicing a sport implies passion, discipline, dedication, sacrifice and responsibility. Cynthia Yasmín chose rhythmic gymnastics from the age of six. Her dedication has borne fruit, as she says that "before, Mexico was totally unknown in the discipline, sometimes they even confused me with someone from another country, they did not believe that she was Mexican. I had to attend many competitions so that the judges knew me. Now I have a name and the qualifications have improved a lot". She was born in Guadalajara, Jalisco, on December 11, 1987; Her parents, Armando Valdez Quezada and Elvia Pérez Gómez, have always supported her in her performance. Like her brothers Diana and Edith, who also practice rhythmic gymnastics. When material resources are not abundant, pleasures have to be sacrificed in order to pay for the expenses that this career demands. But it's all worth it, when she struggles to achieve a dream, her parents comment. Despite the enormous dedication that rhythmic gymnastics demands, Cynthia has not neglected her formal education, since she completed a degree in International Business at the Anahuac University, in Mexico City.
Cynthia has 16 years of sports career, during which time she has achieved many victories, nationally and internationally. Let's remember that in 2001 she won four gold medals at the National Olympiad in Mérida, Yucatán, and in San Luis Potosí. The same year she participated in the Queen Margarita International Tournament in Varna, Bulgaria, where she won several medals; as well as in the Four Continents Championship, held in Brazil, and in the Central American and Caribbean Games, in El Salvador. In Jalisco, she has also received recognition, such as the State Sports Award and the Sports Merit Medal, awarded by the Guadalajara City Council. She was distinguished with the Pedro Sarquis Merrewe Foundation Award, a patronage institution to support outstanding values of Jalisco with a medal and economic stimulus. Her successes followed in 2003, when she again won multiple gold medals at the National Olympiad. Likewise, she participated in several world championships, such as those held in Budapest, Russia, Spain, Bulgaria, Hawaii and Santo Domingo, where she obtained medals and placed in prominent places. Cynthia was the great winner and queen of rhythmic gymnastics at the XX Central American and Caribbean Games 2006, held in Colombia; from where she brought six gold medals. She attended Beijing in the year 2008. She has sacrificed her personal life, her studies and her friends, for being the best gymnast. This Jalisco is considered the best gymnast in America. In 2005 she was classified among the 10 best in the world, according to the Grand Prix Circuit, of the International Gymnastics Federation.
Her journey was on the rise, we remember her beginnings to appreciate more what Cynthia has faced in the world to lead the State of Jalisco to be known in rhythmic gymnastics. Cynthia, through this column, Women who leave their mark, from the newspaper EL INFORMADOR, like you, deeply Guadalajara, we wish you to have a relevant place in this competition that requires so much perfection and discipline.
Main achievements
* Central American and Caribbean Games, San Salvador: 1st. place all around -hoop, rope, clubs, 2nd. place, on ball.
* Champion Cup, Moscow: 18th. place all around.
* International tournament, Ulyanovsk, Russia: 3rd place in hoop.
* Julieta Shishmanova International Tournament, Bourgas, Bulgaria: 4th place in hoop.
* XV Pan American Games, Santo Domingo, Dominican Republic: 5 place all around, 3 place on treadmill.
* Worl Cup Series Vitry Cup, Zaragoza, Spain 15th place all around.
* World Championship, Budapest, Hungary Finalist all around.
High Performance Athlete from Jalisco. Medalist in Pan American Games in Rhythmic Gymnastics.
Santo Domingo 2003
Medal: Bronze
Discipline: Tape
Rio de Janeiro 2007
4 medals
Discipline: General individual
Medal: Silver
Disciplines: Ribbon / Ropes /Claves
Medal: 3 Bronzes
Guadalajara 2011
5 medals
Disciplines: Hoop / Clubs
Medal: 2 Golds
Disciplines: Individual / Ball / Ribbon
Medal: 3 Silvers
In Guadalajara 2011
— Only gymnast with a medal in each discipline
— Top Mexican medalist contributing 5 medals for Mexico
— Record of Pan American medals with a total of 10
Cynthia Yasmin Valdez Perez, Mexico performs with hoop during the 32nd Rhythmic Gymnastics World Championships. The event takes place at the Palacio del Deporte.
Cynthia Yasmin Valdez Perez of Mexico performs with a ball during the 32nd Rhythmic Gymnastics World Championships in kyiv, Ukraine, August 28, 2013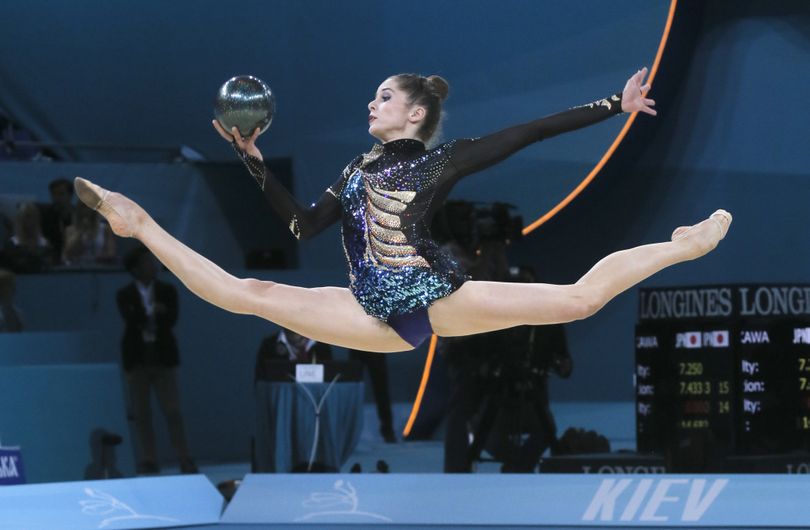 Cynthia Valdez Olympic Stars Gymnastics Gala 2004
Cynthia Valdez Gala Gimnastica de Estrellas Olimpicas 2004 en Mexico Olympic Stars Exhibition
Cynthia Valdez Schmiden International 2006
Cynthia Valdez Hoop Deriugina Cup 2007
Gala Gimnasia Rítmica Chimkowe, Chile
Copa Plan Sexenal Cd. de México 2013
Juegos Centroamericanos y Del Caribe 2014
2014 Rhythmic Worlds, Izmir